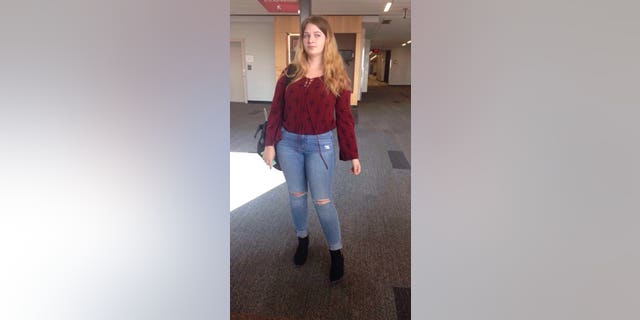 A mom claims her 17-year-old daughter was branded "busty" and "plus-sized" by a teacher and pulled out of class for wearing a blouse that "didn't cover her cleavage properly."
Melissa Barber says Kelsey Anderson was singled out at Joplin High School in Missouri because her long-sleeved blouse and jeans violated the dress code.
She shared a photo of the outfit and wrote: "This is the shirt that just got my 17-year-old dress coded.
"The teacher said, 'Your boobs are bigger than most girls, and you are gonna have to try harder.'
CHRISTIAN FAMILY SUES SON'S SCHOOL OVER MALE DRESS CODE
"She really needs to not speak to my daughter like that. What is wrong with the way this child is dressed????"
Barber claims her daughter was sent to the principal's office by her female child development teacher after being "sexualized" in front of her classmates.
When she asked why she had been excluded, the teacher reportedly said, "bustier women need to wear clothing that covers their cleavage" and "plus-sized women need to dress accordingly."
In a viral Facebook post, Barber fumed: "How often does this happen to your sons? Seems like another way to keep girls uneducated. #sheisnotadistraction #letthegirlslearn."
It has been liked and shared 40,000 times since it was posted after the incident on Friday and has sparked a backlash on social media.
Lynda Menicucci Farrenkopf wrote: "Both of them need glasses. Her clothes are fine. That's ridiculous. She's a pretty girl and is dressed appropriately."
Kc Richards wrote: "Number one, she isn't even 'plus-sized' and number two someone please tell me where her boobs are even showing in that shirt."
A spokeswoman for the Joplin School District, which serves 7,395 pupils in Missouri, said: "The District does not consider comments by staff members about students' bodies appropriate. Our staff conduct policy requires all staff members to maintain courteous and professional relationships with students. This incident is being investigated by the administration to determine if this policy has been violated."
Barber now plans to take legal action against Joplin High School, which is part of the Joplin School District in Joplin, Missouri, and is in talks with an attorney.
FOLLOW US ON FACEBOOK FOR MORE FOX LIFESTYLE NEWS
The District's Board of Education policy on student dress code allows individual student expression but requires that outfits adhere to health and safety codes.
It also states: "Dress that materially disrupts the educational environment will be prohibited.
"No procedure will impose dress and grooming rules based on gender."