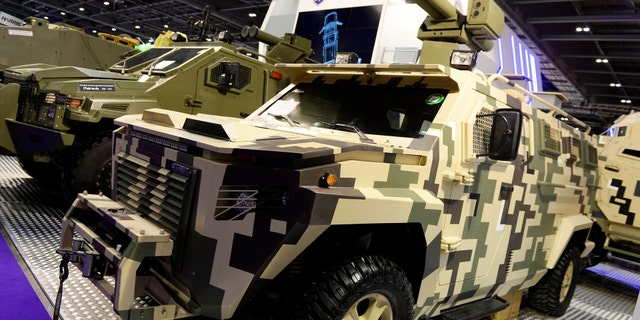 Tanks, fighter jets, drones, armored fighting vehicles, laser weapons, bomb defusing robots – and even submarines. These are just a few of the latest military and security innovations from around the world on offer at the Defence and Security Equipment International Show (DSEI) in the U.K. this week.
DSEI runs from Sept. 10 through Sept 15 at the Excel Center in London.
The gigantic scale of biennial DSEI is often described as unrivalled. If you are a country looking to upgrade your military might then this "one stop shop" is the place to be.
Pretty much anything you would need to defend your country in war – or to launch a war for that matter – is here in London at largest show of its kind on Earth.
What can you see at the event?
For those looking for an edge to help their country dominate in a conflict, this year's DSEI has attracted a record 1,605 exhibitors from 54 countries.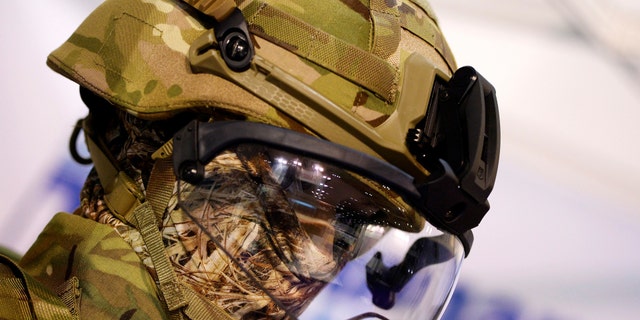 But this is not like the movies. You will not, for example, see suitcases of cash delivered by scary security teams and in exchange keys to a tank handed over.
SOUND WEAPONS THAT DELIVER INVISIBLE AMMO IN SPOTLIGHT AFTER AMERICAN DIPLOMATS INJURED
Instead, this is a chance for delegations to discover new options and discuss them with the relevant experts – no money changes hands.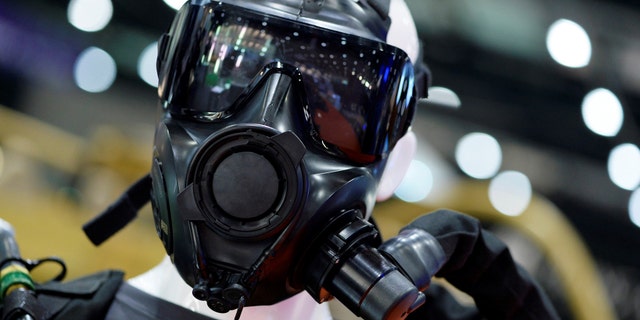 Conversations that take place in the swanky meeting rooms within companies' exhibits or at posh London restaurants and bars may, of course, lead to eventual sales.
Cutting edge tech for all terrains is on show. Representatives will be hunting for tech that could provide their countries with critical advantages.
Air Superiority
For those with air needs, there is everything from pocket-sized surveillance drones to giant weaponized drones that are the most powerful on earth. There is also a wide selection of helicopters and fighter jets.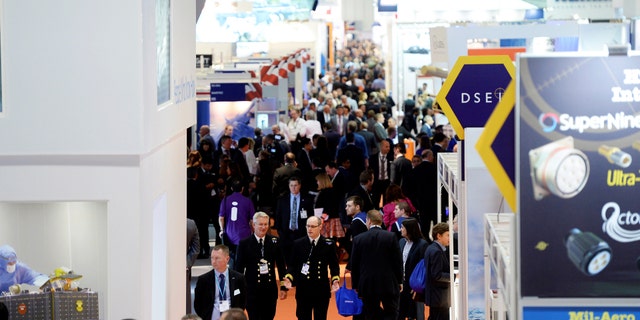 Ground Battles
Shopping for looming battles fought on land? There is a mind-boggling array of offerings, from the latest in body armor and ways to covertly armor up civilian vehicles through to Special Forces equipment and ATVS, rations and explosion containment.
PODCAST: Listen to this Special Operations Expert Describe Calling in Air Strikes on Dangerous Missions
Weapons
Thinking about something new for your country's arsenal? The most state-of-the art and futuristic weapons can be found alongside the tried-and-true favorites in the endless maze of aisles.
NEW RUSSIAN STEALTH FIGHTER JET REVEALED
Lasers, RPGS (Rocket Propelled Grenades), missiles, sniper rifles, the latest lethal and nonlethal bullets, special operations sniper rifles, artillery and much, much more are on offer.
Options for a precision surgical strike launched from a continent away through to shoulder-launched mega firepower that would devastate an enemy – basically anything throughout the spectrum of weaponry is available.
Warships and beyond
Considering how to advance your naval capabilities? From big assets like submarines and aircraft carriers through to smaller sized but crucial capabilities like diver equipment and mine-locating swimming robots, there is no shortage of options at DSEI.
Seven warships, from the Royal Navy and international allies, sailed up the River Thames to participate in the event.
Also drawing crowds riverside, there are demonstrations on the river Thames of Operation MARCAP, a marine interdiction scenario featuring Royal Marines Offshore Raiding Craft and more
Protecting the Homeland
Security is a very big part of DSEI. On the sexier end of security, there are gadgets and tech that would fit right into a James Bond movie … think biometrics like iris, face and voice for access to a fortified, secure room.  Or tracking devices, vehicle identification and interception gadgets to locate a bad guy.
PODCAST: Learn the How this Special Forces Guy is Building a Business Empire
Dealing with Potential North Korea Nuclear and Radiological Threats
For countries thinking about possible intervention with North Korea and Syria that could pose Chemical, Biological, Radiological, and Nuclear (CBRN)-type threats, delegations are looking at potential solutions like suits to protect forces against radiological and nuclear weapons, as well as decontamination technology.
MEET THE WOLVERINE – WWII STYLE WITH STATE-OF-THE-ART TECH
For the first time this year, there is also a "Joint Zone" dedicated to supporting allied militaries working together – particularly timely in light of the intensification of threats like North Korea.
There is also an entire area dedicated to field medicine featuring front line advances and experts.
So who gets to go inside?
Not just anyone can walk in off the streets to get a glimpse of the world's most cutting-edge defense and security tech. Attendance is highly restricted and closely vetted.
This is window shopping at the level of a country's top officials, a country's top military level – not individual level. Approximately 34,000 visitors from 121 countries this year are permitted to walk the vast floors.
There are 2,500 international delegations from both traditional and emerging markets hitting the floors. More than 3,000 VIPs, that's designated as 1 star and above, from around the world are expected.
Controversy
DSEI is not without controversy. London Mayor Sadiq Khan stated he wanted DSEI banned because he did not condone defense sales to countries that "contribute to human rights abuses"- but was unable to prevent the event from going ahead.